About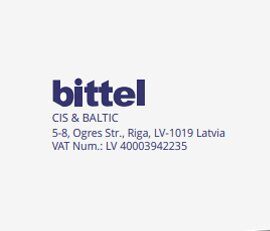 BITTEL CIS & Baltic provides BITTEL hotel phones in Russia, Azerbaijan, Armenia, Belarus, Georgia, Kazakhstan, Kyrgyzstan, Moldova, Tajikistan, Turkmenistan, Uzbekistan, Ukraine, Latvia, Lithuania, Estonia.
You can find BITTEL phones in such world-famous hotel chains as Accor, Best Western, Crowne Plaza, Fairmont, Inter Continental, Ibis, Hilton, Holiday Inn, Hyatt, Kempinski, LeMeridien, Marriott, Radisson, Sheraton and many others.
BITTEL produces a variety of models of hotel phones - from simple models (series A) to multifunctional models (series B and C) - and owns many patents for unique features of hotel telephones.
BITTEL products have ISO9001 certificate, as well as FCC, CE and CCC certificates.
Since the first Bittel phone was supplied in Russia in 2006, BITTEL become the leader of the Russian market of hotel phones.